AP9 Shopping Essentials Presents Spring Fashion Tips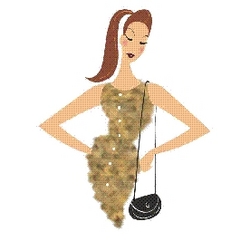 Norwalk, CT (PRWEB) April 7, 2008
Shopping Essentials (SM), a leading membership discount program offered by Adaptive Marketing LLC, says that, this spring, "old is new." Early spring fashion trends point to floral-printed garments. And while that may not be anything new, the way these flowers and floral prints are being worn, and how designers have chosen to combine them, is the foundation of Spring 2008.
This year, designers seem to be very focused on color combinations. They're relying heavily on combining basic neutrals, like white, off-white, light beige and grays, with brighter colors that are simply a must: energizing reds, cool waterborne blues and eco-friendly greens. With that in mind, take a look at some further Spring 2008 fashion insights, courtesy of AP9 ShoppingEssentials:
— Water the flowers. This spring's fashion flowers have a definite "watercolor" look to them. So consider floral-print sweaters with jeans or a solid-color dress. That "watercolor" look makes flower prints seem more blurred than usual, and similar prints can be found on almost any piece of clothing. Check out Grandma's closet or vintage stores to find old pieces that will work wonders today.
— Brighten up with accessories. The right necklace or purse can make or break an outfit. This year, the main trend is color, so don't be afraid to mix and match as you please. How bright colors look on the whole depends largely on skin tone, so pick your accessories carefully, even if it means spending a good chunk of time trying out stuff in front of the mirror. And yes, it's valid to wear solid-color outfits and add drama with bright-colored purses and shoes.
— Go retro. Dresses are in this spring, and designers looked back in time to offer up-to-date versions of old successes. The airy, "long-floaty" dresses of the 1960s (called "maxis" in fashion jargon) and the more '80s "minis" are back on the runways and on the streets. For a casual look, wear "minis" with leggings, and use colorful pantyhose for more formal occasions, too.
— Hippies are still hip. The retro aspects of Spring 2008 fashions aren't limited to just dresses. In fact, what fashionistas are calling "hippie chick" headbands and headscarves are definitely back in. That counter-culture look is still going strong today. Dig out pictures of mom, and take notes of what was hot back in the '60s and '70s.
Fashion tips like these mean that spring is definitely here. And for savings on all the essentials — no matter what the season — any time is a good time to get into AP9 Shopping Essentials.
About Shopping Essentials

AP9 ShoppingEssentials is a leading membership discount program offered by Adaptive Marketing LLC. Headquartered in Norwalk, Conn., Adaptive Marketing is a category leader in membership programs, bringing value direct to consumers through an array of benefits in healthcare, discounts, security, personal property and personals. Members may access their benefits at Shopping-Essentials.com. With broad online and offline distribution capabilities, Adaptive Marketing offers its corporate client partners effective tools to enhance market presence, strengthen customer affinity and generate additional value through programs such as AP9 Shopping Essentials.
###