Actress & Bestselling Author Jennifer Nicole Lee Rocked Hollywood with Her Los Angeles Fitness Model Factory Women's Empowering Workshop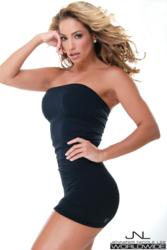 (PRWEB) April 27, 2012
Actress, bestselling author and top fitness super model Jennifer Nicole Lee and her dream team of top experts and her top celebrity photographer headed to the city of angels to motivate a special elite group of women at her first ever one day mega Fitness Model Factory event in Hollywood. JNL coached an exclusive group of top health, wealth, glamour, fitness and beauty experts and professionals who all were "JNL-Approved" to spend some much valuable time with JNL and her inner circle one on one.
The women all grew by quantum leaps as the "Los Angeles Fitness Model Factory" mega event started off with a mixer, where the top women in the fields of glamour, beauty, fitness and wealth all got to know each other. Marina Aleksintser was the co-host of the event, and opened up the female empowerment workshop with her key note speech on how to stand out from the masses and make a long lasting impact in only seconds that will draw in your colleagues and potential collaborators.
Then JNL took the stage where she welcomed each dynamo, calling the members by name and allowing them to introduce themselves, where they shared their core genius, refined expertise, passions and goals. The women were more stunning, stronger and complete show-stoppers not only from head to toe, but from their outside skin to their shining spirits and souls. Top earners in their fields, the most highly sought after nutritionists, Doctors, in demand key note speakers, healers, A-list hair and makeup artists, fashionistas, and yes even repeat JNL Fusion Master trainers all where in attendance.
JNL went on to share her top secret marketing, advertising, and revenue generating secrets, followed by a open room live question and answer session. Jennifer Nicole Lee's 'big fun" Fitness Model Factor event then climaxed when the event transitioned from seminar to photo shoot, with master photographer Claude Taylor behind the camera.
A special celebrity appearance topped off the event when living legend Miss Elisabetta Rogiani entered the room with a grand entrance. Having dressed the iconic likes such as Jane Fonda, Elle McPherson, Jackie Warner, and JNL herself, Rogiani coached the women on what made a women exceptional. The elite attendees had the special chance of a life time to model the http://www.JNLbyRogiani.com line, where all experienced the direction of both masters of their art form and craft, JNL and Elisabetta.
The event rounded off with last call networking where the super models traded business cards and personal contact information.
When asked on how her event went, JNL responded, "There is nothing more beautiful, alluring or hypnotic than a beautiful strong women, who is both beautiful and strong on the inside and outside. It's my goal and passion to increase the quality a person's lifestyle. And to help women learn, grow, become successful, sexy, and self-sufficient makes me glow inside. As a leader in the beauty, fitness, and wellness industry, and also being a mom and wife, I know just how important esteem-building exercises are for women. I am proud to say I have motivated many top experts and professionals just to be that much more driven, passionate, and confident in their own abilities."
When asked if she will present this exclusive chance of a life time opportunity again, JNL replied, "There is a big demand for my Fitness Model Factory day events, that empower women and allow them to break out of their normal ever day life and really take the time to name their goals and then create a blue print to make them happen. We are now looking at New York City, Atlanta, and possibly Chicago soon."
The complete list of leading professionals who attended are:

The Alli B: 2nd Degree JNL Fusion Master Trainer & Vegan Nutritionist

Noel M. Kelman: super successful mom of four, and top life coach in the making

Marnie Miller: in demand hair dresser, top fitness model in the making, and health enthusiast

Jenna Krahn, aka Jenna K: Top JNL Fusion Master Trainer & Specialist in Nutrition

Michelle Phillps: avid fitness competitor, top bikini model, & key media presenter

Christine Auer: multi-award winning fitness competitor, empowerment guru, Specialist in Sports Medicine

Dr. Catherine Divingian: top fitness competitor with impeccable credentials, authoring a book on mental and physical strength for women.

Sandy Gonzalez: 19 years in Marines, Top Tier Marine Sergeant, JNL Fusion Master Trainer, devoted mom and wife

Angela Skeels: the camera loves this young, driven and passionate future fitness competitor who works presently as a public safety dispatcher who has a strong body and mind having to make split decisions during life threatening emergencies.

For more info, please visit http://www.FitnessModelFactory.com