MomandDadCamping.com is Reminding about the Great Contest for Kids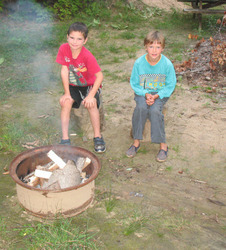 (PRWEB) July 29, 2010
Now that the summer reached its midpoint some vacation memories were already made and some are still waiting to happen. Many kids already went camping, fishing or canoeing with their families. All of them are invited to take part in a contest for the most awesome summer story.
Beata Antoszek from MomandDadcamping.com says: This is a contest for kids up to 16 years of age. It encourages their creativity and independent thinking. It is also a great way to practice writing skills during the summer months, when a lot of knowledge learned at school is idle or being forgotten. Now is a good time to put it in use in a fun way.
The contest, first announced at the end of June, encourages children to write their own story about their most awesome summer adventure. Preferably it would be a story about a camping trip adventure, but other stories about outdoors and nature are also welcome. For full details about contest requirements go to: http://www.momanddadcamping.com/forum/general-discussions/just-kids/most-awesome-summer-story-contest-kids.html
Beata adds: We all love summer, but kids love it the most. It is their hard earned rest time and play time. Most kids have some wonderful memories they like to share with their families and friends back home, but they may need some encouragement to write about it. It is their parents job to give them a nudge to put words to paper. We would like to see some funny and inspiring stories from children, to see the world through their eyes again.
All entrants will be rewarded by being published on the MomandDadCamping.com website. The two winners will get digital cameras. Maybe next year they will be able to enter a photo contest.
For all parents Beata Antoszek from MomandDadCamping.com is offering a free report called, 5 Biggest Mistakes That Camping Parents Make together with the Ultimate Family Camping Checklist.
You can get your free reports along with other valuable information by going to http://www.momanddadcamping.com
###
This entry was posted by Sara on June 4, 2012 at 11:57 pm, and is filed under Inspirational. Follow any responses to this post through RSS 2.0.Responses are currently closed, but you can trackback from your own site.