J.Paul Skin Care's Shave Cream is a Favorite of Allure Magazine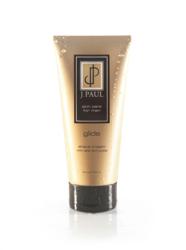 Houston, TX (PRWEB) August 25, 2011
Allure Magazine touted J.Pauls Glide Shave Cream as a valued commodity in our boyfriends medicine cabinet. Allure continues the recommendation by noting that Glide Shave Cream gave us the closest, most moisturizing shave weve had in awhile. The Editors also loved the scent of Glide Shave Cream describing it as clean and fresh.
Paul Looney, J.Paul Skin Care CEO, was elated about the glowing review from Allure Magazine. We have always known that our Glide Shave Cream eliminates razor burn and other shaving problems for men. Men do comprise the majority of our customers, but women are also using our products. Looney added, Once our products are in the medicine cabinet or shower, women try them and become loyal J.Paul customers as well. To further the excitment of Glide Shave Cream, J.Paul is offering a special for online purchases: Buy one Glide Shave Cream, and receive one Glide Shave Cream for free. This offer is valid today through August 31, 2011.
J.Paul Skin Care for Men has enjoyed consistent growth in sales since its inception in May 2010. The grooming line consists of a pre-shave, shave cream, aftershave, face lotion and body wash. J.Pauls flagship product, Glide Shave Cream, was developed to address the shaving problems associated with coarse beards. It is a Glyceryl-based cream with aloe vera and jojoba oil to keep the skin moisturized during and after shaving.
Published monthly by Conde Nast, Allure Magazine is known for its intelligent and innovative reviews and articles on womens beauty products. Since its inception in 1991, Allure continues to be one of the worlds top selling beauty magazines.
To read Allure Magazine Editors Favorite Products, visit http://www.allure.com/beauty-products/editors-favorites/2011/product-reviews-08-22-2011?slide=5. For more information about J.Paul Skin Care and their products, visit http://www.jpaulonline.com.
# # #