Celebrity NYC Event Planner Launches Wedding & Event Design Company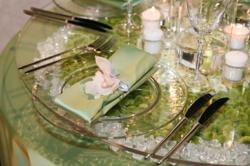 New York, NY (PRWEB) June 20, 2012
April Chantel Hollar, the principal of the company, has over 14 years of experience in creating sleek, sexy and contemporary designs for numerous celebrity clients and professional athletes. Having previously owned an entertainment venue in Arizona, the bulk of her event planning experience has been centered around social events.
Hollar is an experienced expert in the field and obtained certifications in Wedding & Event Planning as well as Event Design. When asked why she joined the wedding arena, said, "I am a romantic at heart and love seeing the spark in a bride and groom's eyes on their wedding day. I make it my mission to give them the glamorous atmosphere and design they desire."
April Chantel Wedding and Event Company is a full service NYC planning & design company specializing in creating events with a distinctive flair. Whether your celebration is intimate or lavish, they will create a one-of-a-kind experience that will shine for years.