QualityShells.com Cites Renewed Popularity In DIY Seashell Wedding Favor Ideas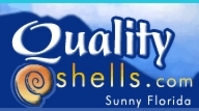 Palmetto, FL (PRWEB) March 17, 2010
With U.S. couples spending an average of $ 20,398 on their wedding, according to CostofWedding.com; its no wonder that QualityShells.com, online seashell supplier, is reporting an increase in shoppers seeking do-it-yourself wedding favors ideas. The sand dollar, starfish, and seashell retailer is noticing an influx in bride-to-bes requesting ideas on beach-themed crafts that can double as wedding favors and placecard holders.
QualityShells.com has responded to this diy beach wedding favor demand by creating a Seashell Wedding Favor Ideas section on their site, supplying bride-to-bes with cost-effective seashell and sand dollar wedding favors and decoration ideas to ease that hefty wedding price tag.
Beach-themed weddings are one of the most popular themes out there, but the favors are simply costing a fortune. Were looking to help brides craft beautiful seashell favors that will still allow them to have a great honeymoon at the beach, of course! asserts Jim Shook, Owner, QualityShells.com.
The website prides itself on only selling the shells theyd want to receive quality shells, of course. Any shells that arrive broken will be replaced at no charge. The site boasts an assortment of Starfish, Seashells, and Sand Dollars for brides and wedding planners to utilize in their wedding decorations, favors, and as table place cards.
Every hundred dollars here and there that a couple can save really goes a long way. Of course, every bride still wants to have the wedding theyve always imagined, and crafting your own favors lets you accomplish both. Just get your wedding party together and start crafting, explains Shook.
The cost of weddings is only rising, and QualityShells.com expects to see even more visitors gaining advice from its beach-themed favor ideas. Have an idea? Email info12(at)qualityshells(dot)com to see your diy seashell favors idea on the QualityShells Blog.
About QualityShells.com

QualityShells.com is an online seashell retailer dedicated to providing customers with only the most high quality shells, sand dollars, and starfish. The website caters to both small, individual orders, as well as bulk shells orders. QualityShells.com is happy to replace any shells that arrive broken or damaged to mail handling, and will only ship items that are of the highest quality, earning the company many satisfied customers.
# # #